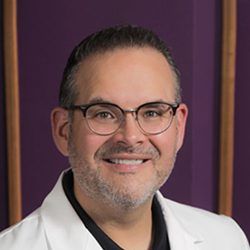 Chiropractor
David Haas D.C.
Now practicing Chiropractic in Mason City IA, Dr. David grew up with Dr. Rick as a father and knew all about chiropractic from a young age. If someone got sick, they received an adjustment, ate the right foods, and slept well.
Whenever the family got together, everyone talked shop. Despite the family connection, however, he initially considered radiology as a career. But sitting behind a desk doesn't allow much opportunity for interacting with others. As a people person, Dr. David wanted something else. "I have a caring spirit, and I'm glad I can put it to work. I'm fulfilling my purpose in life by helping people get well and changing lives-all without the use of drugs or surgery."
Dr. David attended Northwestern Health Sciences University. His chiropractic education gave him a strong foundation for a clinical mindset, and the ability to diagnose conditions accurately. "I am here to listen and help, even if that means it's time for you to see another provider." He comes from a family of chiropractors, 4 to be exact. With Dr. Dave being the 4th one to join the profession.
Among the awards Dr. David has received include Outstanding New Practitioner from the Iowa Chiropractic Society. He has also been recognized by the American Chiropractic Association with the Legislative Advocacy Award for over 20 years.
Through his years in practice, he's continued to be passionate about getting sick people well and keeping those who are well from getting sick.
"I want people to be proactive. Chiropractic should be started early in life so we don't continue to see degenerative conditions as people get older." - Dr. David
Dr. David grew up in Mason City, Iowa, as the oldest of three children. He has a sister in Colorado and a brother in Chicago. Dr. David and his wife Meghan (his high school sweetheart), have three children: two sons and a daughter. A Puggle and a Golden Retriever round out their immediate family.
In his spare time, Dr. David loves to be outdoors. He is an avid cyclist and musician, both singing and playing guitar. He's even in a band on the side! A big sports fan, Dr. David cheers on the Hawkeyes and the Vikings.
Chiropractor
Rick Haas D.C.
Dr. Rick chose to be a chiropractor while taking basic sciences courses at Briar Cliff College in Sioux City, Iowa. Chiropractic helped him with chronic allergies, and it was then he decided to attend Palmer College of Chiropractic.
While attending school to achieve a Doctor of Chiropractic, Dr. Rick worked as a technique supervisor at a public clinic. He got to further hone his skills by treating employees at his part-time job, giving him a further depth of experience in adjusting.
"I love helping to restore people's health without the use of drugs or surgery." - Dr. Rick
You'll love how passionate Dr. Rick is about your problems, focusing solely on you and discovering the best way to address your health condition. He's constantly seeking to be the best doctor possible, knowing it's the key to helping people.
To deepen his knowledge, Dr. Rick continues to take postgraduate classes. It's improved his decision-making skills, treatments and overall patient outcomes.
The additional accreditations Dr. Rick holds include the following:
Diplomate of the American Board of Chiropractic Orthopedists
Certified in sports injuries
Certified in acupuncture
Certified in occupational health
Past Diplomate of the American Board of Quality Assurance and Utilization Review Physicians
He has served on the board of the Iowa Chiropractic Society for 16 years, with a total of 10 years on the executive board and two separate terms as president.
Furthermore, Dr. Rick was given the organization's Presidential Award in 2015.
Dr. Rick was raised in Sioux City by a father who was an avid sportsman and a mother who was a homemaker. He married his wife Jeanne during his final year in college (they were high school sweethearts!). Together, they have three grown children, one of which you'll meet in the practice, Dr. David.
When he's not with patients, you can find Dr. Rick spending time with family, golfing, fishing, trap shooting and flying. Chiropractic Assistant
Jeannette Chiropractic Assistant
Tina
OFFICE HOURS
---
Monday
9:00am - 1:00pm
3:00pm - 6:00pm
---
Tuesday
9:00am - 1:00pm
3:00pm - 6:00pm
---
Wednesday
9:00am - 12:00pm
3:00pm - 6:00pm
---
Thursday
9:00am - 1:00pm
3:00pm - 6:00pm
---
Friday
9:00am - 1:00pm
---
Saturday & Sunday
Closed